Stamp Collecting Albums
For many collectors, stamp collecting albums represent the culminating event and favorite part of the hobby.
All of the hunting and searching for just the right stamp crescendos with the final performance of mounting a stamp in its rightful place.
Of course, like everything in stamp collecting, variety is the spice of life! A wide range of stamp collecting albums are available. This is driven by all the different types of stamps and collecting styles out there.
For expensive stamps, a Fort Knox level of protection may be needed but for a collection of inexpensive stamps, modern US postage stamps for example, most collectors would prefer to collect the stamps with as little added expense as possible. It just doesn't feel right to spend more on the album than on the stamps inside!
---
Hingeless Stamp Albums : These high quality displays have built-in slots for stamps in protective plastic holders, like little sheaths. These are the top-end albums, some selling for hundreds of dollars for a single album. But, wow, some of them are really nice.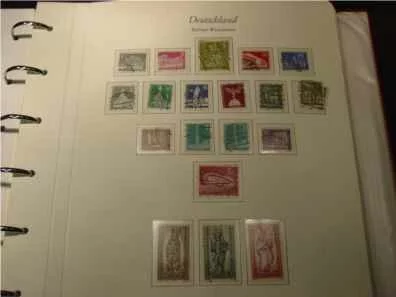 ---
Vintage Stamp Album : These are hardbound albums that come with a fixed spine so you can't add or remove pages and most are old - from the 1930s to 1960s.
This is an area where the albums in and of themselves can be interesting and valuable. There are collectors that are willing to pay an extra $50 for an album from the early 1900s in like-new condition. There is something about the history associated with the album itself that can enhance the right collection.
There were a lot of high quality albums produced during the stamp collecting hey-day of the 1930s and 40s that are just waiting for a collection to take root. These are readily available from most stamp dealers and are inexpensive.
I have seen stamp albums from the late 1800s and early 1900s that are works of art unto themselves but its all about what works for you and your collection.
---
Adjustable Stamp Collecting Album : These are usually built with a 3-ring binder concept to allow you to add new pages and customize your album over time. The drawback here is that stamp album pages can be expensive. On the other hand you have complete control over what you buy to add into your collection.
Many collectors love the the freedom to add, remove and rearrange pages at the whim of their latest collecting off-shoot. Two of the most popular examples are the Scott Specialty Albums (Green hardbound album and slipcase) and the Minkus Supreme Global Albums (Deep blue hardbound binder and slipcase).
---
Custom Postage Stamp Albums : These are albums of all make and manner, frequently of the home-made variety. With the accessibility of free album pages online, more and more collectors are skipping the mass-marketed albums and making their own.
I'd love to post any examples or stories you want to share - just use the Contact Me form!
Return to the main Stamp Collecting Supplies page, from this Stamp Collecting Albums page by clicking the links.
Stamp Values for a Stamp Collection, Old Stamps and Current Rate Stamps
Buy Stamps Online Now
Stamp Auctions - When should you use an auction house to sell your stamp collection?
Custom Postage Stamps - Design your own Stamp and Personalize your Mail
Postage Stamp Picture Gallery. Photos of Early US and Worldwide Stamps
How to Sell Stamps - From selling an inherited stamp collection to becoming a stamp dealer.
US Stamps - a philatelic history of the famous and rare stamps of the United States.
This Stamp Collecting Blog keeps you up to date on additions to the www.stamp-collecting-resource.com Web site. Subscribe here!
Stamp Collecting Albums : The Final Destination for many Stamps.
Stamp Collecting Supplies - Albums, Pages, Tongs and all the supplies of the hobby
Forever Stamp Pictures - Recent Commemorative Stamp Designs
Stamp Clubs and Societies - What are they all about?
Stamp Collecting Resource SiteSearch - Google this site or the entire web
Stamp Collecting Links
First Day Covers. Collecting stamps used the first day it is released is what FDCs are all about.
US Postage Stamps - Rare stamps to modern US Postal Service issues.
Buy Stamps - How to Purchase Stamps as a Hobby or Investment
Topical Stamp Collecting is booming and with good reason!
Contact Me! Enter a private message here.
Stamp Stories - Rare and Unusual with Pictures and History
Custom Search