Stamp Dealers
When deciding how to sell, stamp dealers are an important option to consider.
This group of collectibles retailers includes anyone that sells stamps online, at stamp shows, in a physical bricks-and-mortar stamp shop or all of the above.
My experience has been that sellers are an honest and trustworthy lot but they are trying to make a profit (some more than others) so I recommend asking lots of questions and getting second opinions.
If you are looking to sell stamps, going to a stamp dealer, presumed to be an honest expert, is an obvious choice and frequently are the best option for many sellers. But there are some key pieces of information to keep in mind before selling your collection.
1. Stamp Dealers make money by buying your stamps for less than they resell them.
Most stamp dealers also sell stamps online now. This means they will generally offer you less for your stamps than you could sell them for online. You are paying them for the time they'll put into listing the stamps and waiting for them to sell, which can take months or years depending on the dealer.
Stamp dealers sell individual stamps at significant discounts to the prices listed in the Scott postage stamp catalog. You can frequently find high quality and sound stamps well under 50% of the catalog values. This means they buy stamps at much lower prices to be able to afford the overhead costs (rent, stamp show fees, online auction fees, etc).
Anyone you accept an offer from should be extremely knowledgeable and experienced. Ask questions and trust your instincts. If they seem unsure, aren't knowledgeable or otherwise don't inspire confidence you should just listen to an offer and head off for a second opinion. You can always go back if the second offer is worse!
If you're looking to buy 
high quality United States pre-1940 
stamps, please visit our sister site, Buy Stamps Resource
(click to open in new window)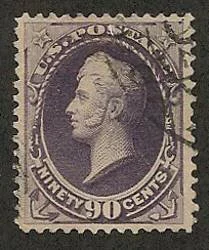 To buy stamps, click to open Buy Stamps Resource in new window
2. Stamp dealers often specialize in specific areas of philately, or stamp collecting.
This means some won't offer to buy your stamps at all or will offer less than they would if you had a collection in their area of specialty.
For example, when selling a high quality collection of early US postage stamps you shouldn't try to sell to a first day cover specialist who doesn't do much business in high end stamps. Ask what specialize in. The more information you have, the better.
There are some sellers that sell pretty much anything stamp related but there are many that are focused on very specific areas so try and select one that is a good fit for the type of collection you have to sell.
3. Second opinions are Golden.
If you don't have a trusted stamp dealer, get multiple opinions to greatly increase your chance to receive a strong offer.
This is a quick and easy way to reduce the risk of accepting less than the collection is worth.
A second opinion delivers peace of mind and potentially more money - double bonus!
4. Stamp shows are a great place to find many sellers in one location
This makes an efficient use of your time because you can talk to many captive dealers in a single day in a single location.
Stamp shows can be busy so show up early or right at the end to have a better chance of spending time with a stamp dealer to talk about a collection.
Some show can be so packed with customers that a dealer won't have time to look through your stamps to make an offer until after hours.
Appraisals are not free - most dealers charge about $50 an hour and can do average sized appraisals in an hour or two.
For extensive collections this can be a cost effective way to get an idea of value. Remember to discuss whether you're paying for a retail value, a liquidation value or something else.
Also, you will have a document to use in negotiating a sale price later.
Like jewelry, assessed values can be inflated so the number on the appraisal may be much higher than what you can sell the stamps for. Again, just make sure you ask for the type of valuation that best suits your needs.
Return to the main Stamp Collecting Values page, from this Stamp Dealers page by clicking the links.
Stamp Values for a Stamp Collection, Old Stamps and Current Rate Stamps
Buy Stamps Online Now
Stamp Auctions - When should you use an auction house to sell your stamp collection?
Custom Postage Stamps - Design your own Stamp and Personalize your Mail
Postage Stamp Picture Gallery. Photos of Early US and Worldwide Stamps
How to Sell Stamps - From selling an inherited stamp collection to becoming a stamp dealer.
US Stamps - a philatelic history of the famous and rare stamps of the United States.
This Stamp Collecting Blog keeps you up to date on additions to the www.stamp-collecting-resource.com Web site. Subscribe here!
Stamp Collecting Albums : The Final Destination for many Stamps.
Stamp Collecting Supplies - Albums, Pages, Tongs and all the supplies of the hobby
Forever Stamp Pictures - Recent Commemorative Stamp Designs
Stamp Clubs and Societies - What are they all about?
Stamp Collecting Resource SiteSearch - Google this site or the entire web
Stamp Collecting Links
First Day Covers. Collecting stamps used the first day it is released is what FDCs are all about.
US Postage Stamps - Rare stamps to modern US Postal Service issues.
Buy Stamps - How to Purchase Stamps as a Hobby or Investment
Topical Stamp Collecting is booming and with good reason!
Contact Me! Enter a private message here.
Stamp Stories - Rare and Unusual with Pictures and History
Custom Search