Custom Postage Stamps
Design your own custom postage stamps and personalize anything you send by way of the US Postal Service.
Think your dog all dressed up in a Halloween costume would make an ideal postage stamp? Well, you're in luck! The US Postal Service now allows private companies to sell postage stamps with personalized pictures instead of the standard designs issued by the Post Office.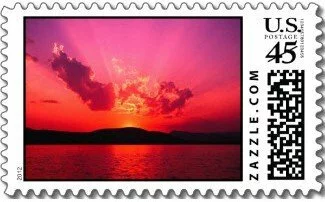 I really want to see what you have put together and hear the stories of your stamp designs.
Use the easy form below to show off your handiwork and the story of your photo - which I'll publish in a web page on this site for our community to see and comment on!
See the ever-growing list of examples of custom postage stamps submitted by readers of this site below. It's a high bar - submit your story and photo stamps now!
Here are a few examples of my personalized postage stamps to get the ball rolling...and it has - check out more stories below.
Show Off YOUR Custom Postage Stamps here!
Have you created a personalized postage stamp that will be the envy of stamp collectors everywhere?

Share your story and show off your personalized postage stamps!
Your Favorite Custom Postage Stamps
Click on the links below to see some great personalized postage stamps. They were all written by other visitors to this page...

These custom postage stamps are valid for mailing using the US Postal Service but there are some restrictions as to what pictures you can use. It's mostly common sense stuff - no copyrighted images, no nudity, no gratuitous violence, drugs, alcohol, etc.
Of course, you do have to pay for this opportunity to express yourself by stamp. You'll pay about twice as much for personalized postage stamps than if you were to buy the first class mail rate US Postage currently being sold by the USPS.
A few companies have jumped into this market to compete for your business since the USPS allowed private stamps in 2006. That competition is great for us as buyers because the prices have come down substantially over the past few years.
There are three main sellers of Customized Stamps (click for more pictures and stories) : Zazzle, PcitureItPostage and PhotoStamps. All of these companies have online submission form at their websites which can be found by using a Google search or on the US Postal Service website where there are direct weblinks.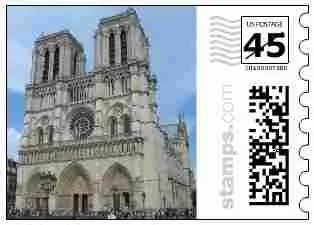 Maybe it's not something for all people or all mail, but Personalized Stamps make a great gift or to use for special occasion mailings.
A stamp showing a high quality color photo of the happy couple on a wedding invitation really adds a personal touch.  
I'd love to see and hear more so please post any great examples of picture stamps you've run across or designed yourself!
Return to the main Stamp Collecting page, from this Custom Postage Stamps page by clicking the links.
Stamp Values for a Stamp Collection, Old Stamps and Current Rate Stamps
Buy Stamps Online Now
Stamp Auctions - When should you use an auction house to sell your stamp collection?
Custom Postage Stamps - Design your own Stamp and Personalize your Mail
Postage Stamp Picture Gallery. Photos of Early US and Worldwide Stamps
How to Sell Stamps - From selling an inherited stamp collection to becoming a stamp dealer.
US Stamps - a philatelic history of the famous and rare stamps of the United States.
This Stamp Collecting Blog keeps you up to date on additions to the www.stamp-collecting-resource.com Web site. Subscribe here!
Stamp Collecting Albums : The Final Destination for many Stamps.
Stamp Collecting Supplies - Albums, Pages, Tongs and all the supplies of the hobby
Forever Stamp Pictures - Recent Commemorative Stamp Designs
Stamp Clubs and Societies - What are they all about?
Stamp Collecting Resource SiteSearch - Google this site or the entire web
Stamp Collecting Links
First Day Covers. Collecting stamps used the first day it is released is what FDCs are all about.
US Postage Stamps - Rare stamps to modern US Postal Service issues.
Buy Stamps - How to Purchase Stamps as a Hobby or Investment
Topical Stamp Collecting is booming and with good reason!
Contact Me! Enter a private message here.
Stamp Stories - Rare and Unusual with Pictures and History
Custom Search