Personalized Postage Stamps
| | |
| --- | --- |
| If the USPS isn't designing what you want - design your own Personalized Postage Stamps to use on your mail! | |
The process is fast and easy - basically you upload a digital picture, make any adjustments to the design, then pay and check out. A week or so later they should arrive in your mailbox.
I am sure you have much cooler and interesting pictures than my personal designs on this page...well, except for my dogs - that stamp will be hard to beat!
Show off your custom postage stamps and share your story by clicking here.
I have used these stamps to remember travels to new places, commemorating special events, and just to add some excitement to mailings. These are valid for use on mail by the USPS and you can adjust the shape, size and denomination when designing these Personalized Stamps.
Some of my favorite uses are to remember vacations or travels to new and interesting places. Above are a few from a trip to Paris a few years ago. The art and architecture were amazing. I know it is dfficult to do justice to the scale, size and majesty of the Louvre but these custom stamps bring it all back.
| | |
| --- | --- |
| | From my time living in Guam I have countless pictures of postcardesque overlooks and sunsets. These just make me smile. Who wouldn't love to be transported to a tropical paradise when reading the mail? |
Whatever the subject, using your own digital pictures for postage is an easy and fun way to express yourself through stamps, remember good times or commemorate events. Just be careful, it's easy to get carried away and try and capture everything on your own Customized Stamps!
You just may find yourself mailing letters to friends and family out of the blue just to show off your designs. They'll appreciate it and you'll have fun with it, too.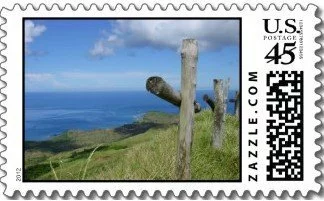 Return to the Custom Postage Stamps page from this Personalized Postage Stamps page.
Stamp Values for a Stamp Collection, Old Stamps and Current Rate Stamps
Buy Stamps Online Now
Stamp Auctions - When should you use an auction house to sell your stamp collection?
Custom Postage Stamps - Design your own Stamp and Personalize your Mail
Postage Stamp Picture Gallery. Photos of Early US and Worldwide Stamps
How to Sell Stamps - From selling an inherited stamp collection to becoming a stamp dealer.
US Stamps - a philatelic history of the famous and rare stamps of the United States.
This Stamp Collecting Blog keeps you up to date on additions to the www.stamp-collecting-resource.com Web site. Subscribe here!
Stamp Collecting Albums : The Final Destination for many Stamps.
Stamp Collecting Supplies - Albums, Pages, Tongs and all the supplies of the hobby
Forever Stamp Pictures - Recent Commemorative Stamp Designs
Stamp Clubs and Societies - What are they all about?
Stamp Collecting Resource SiteSearch - Google this site or the entire web
Stamp Collecting Links
First Day Covers. Collecting stamps used the first day it is released is what FDCs are all about.
US Postage Stamps - Rare stamps to modern US Postal Service issues.
Buy Stamps - How to Purchase Stamps as a Hobby or Investment
Topical Stamp Collecting is booming and with good reason!
Contact Me! Enter a private message here.
Stamp Stories - Rare and Unusual with Pictures and History
Custom Search