Customized Stamps
Personalizing your mail with customized stamps can be a great way to bring some personality to outgoing letters for a relatively small amount of money.
If you're having trouble coming up with ideas, check out the embedded video below for a photo montage filled with great examples. These personalized postage stamps are a combination of my personal stamps and some great reader submissions showing some innovative and captivating photo stamps.
There are some beautiful landscapes from tropical sunsets to snowy scenes of winter. Animals and family are well represented as are many significant life memories.
You really should check out all the stories behind these customized stamps by clicking on the links on the upper right navigation bar.
If you have some stories and pictures of your own that you would be interested in submitting, please submit them and I'll build a webpage for other readers to view and comment.
Show off your custom postage stamps and share your story by clicking here.
---
If you can Drag and Drop, you can Upload a Picture
---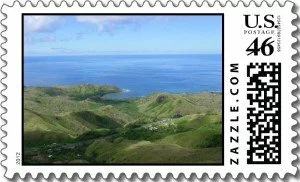 Setting up your own personal photo stamp is easy no matter which of the companies you choose to use. All three companies have easy to use tools to upload your picture, preview the final product, and then checkout to finalize the purchase.
The great thing about using these sites, such as the Zazzle.com link at upper right, is that you can preview any pictures you want without having to purchase anything. This means you can window shop and check out as many pictures as needed before settling on that perfect photo to mail out for the world to see.
The editing software is intuitive and simple to use which makes it easy to resize your photo to display perfectly even if you have no computer expertise. It is a drag and drop application that doesn't require any higher level editing skills.
You will have to pay more for these stamps than the face value denomination. But, the charge isn't too onerous - it ends up being about twice as expensive as the current first class mail rate.
This is a small price to pay for Personalized Stamps that will bring a smile to the face of all who see it and potentially whip up some interest in mail and stamp collecting along the way.
Return to the main Custom Postage Stamps page from this Customized Stamps page.
Stamp Values for a Stamp Collection, Old Stamps and Current Rate Stamps
Buy Stamps Online Now
Stamp Auctions - When should you use an auction house to sell your stamp collection?
Custom Postage Stamps - Design your own Stamp and Personalize your Mail
Postage Stamp Picture Gallery. Photos of Early US and Worldwide Stamps
How to Sell Stamps - From selling an inherited stamp collection to becoming a stamp dealer.
US Stamps - a philatelic history of the famous and rare stamps of the United States.
This Stamp Collecting Blog keeps you up to date on additions to the www.stamp-collecting-resource.com Web site. Subscribe here!
Stamp Collecting Albums : The Final Destination for many Stamps.
Stamp Collecting Supplies - Albums, Pages, Tongs and all the supplies of the hobby
Forever Stamp Pictures - Recent Commemorative Stamp Designs
Stamp Clubs and Societies - What are they all about?
Stamp Collecting Resource SiteSearch - Google this site or the entire web
Stamp Collecting Links
First Day Covers. Collecting stamps used the first day it is released is what FDCs are all about.
US Postage Stamps - Rare stamps to modern US Postal Service issues.
Buy Stamps - How to Purchase Stamps as a Hobby or Investment
Topical Stamp Collecting is booming and with good reason!
Contact Me! Enter a private message here.
Stamp Stories - Rare and Unusual with Pictures and History
Custom Search