Personalized Stamps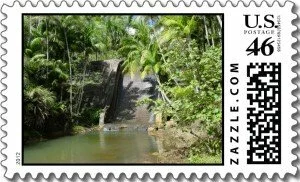 Personalized Stamps are a recent innovation that lets you use your own pictures as stamps.
This page is mainly to show a few examples of ways to make stamps more meaningful to you and others.  Here I'll show off some designs from Thailand and more from the South Pacific Island of Guam.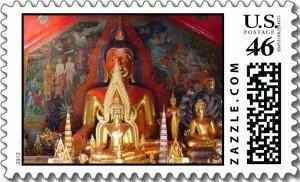 More importantly, I want to encourage you to share your own story and stamp designs.  
I will turn your stamp and story into it's own webpage on this website!
Creativity is rewarded :)
Show off your own picture stamps by submitting your own stamps and also see other examples further down or at the links in the right hand column.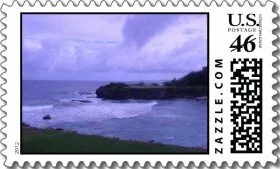 I love to travel and always can find a few pictures that just take me back to the great experiences and places you invariably find in any new place.
Here are some beautiful scenes that remind me of great times in far away places including a long-forgotten dam being overrun by the South Pacific jungle and a bejeweled Buddhist temple that brings back hushed memories of monks and meditation.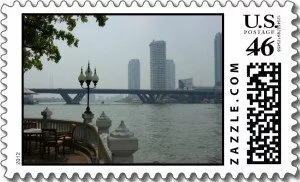 Having and using stamps with personal memories makes me feel good and hopefully gives the recipient an interesting photo to brighten their day as well.
I have designed stamps with pictures of my dogs, favorite vacation memories and much more but know that I am not nearly as creative as some of the incredible pictures and stories readers have submitted.
Check out the links at the upper right column for more real life reader stories and actual photo stamps.  And, most importantly, take advantage of this great new tool and design your own.
I really want to see what you have put together and hear the stories of your stamp designs.
Use the easy form below to show off your handiwork and the story of your photo - which I'll publish in a web page on this site for our community to see and comment on!
See the ever-growing list of examples submitted by readers of this site below. It's a high bar - submit your story and photo stamps now!
Have A Great Story About This Topic?
Do you have a great story and a custom postage stamp to go with it? Share it!
What Other Visitors Have Said
Click below to see contributions from other visitors to this page...

Personalized Stamps Early Date

This personalized stamp shows us as a young couple on spring break. My first date with Alyssa was amazing. We'd been friends for a long time, neighbors …
Personalized Stamps Remember Waco

Personalized stamps like this one can also be used to memorialize significant events, like the tragic loss of life that has collectively come to be known …
Click here to check out my other pages with great information on Custom Postage Stamps, Personalized Postage Stamps, and Customized Stamps, or click here to return to this Personalized Stamps page.
Stamp Values for a Stamp Collection, Old Stamps and Current Rate Stamps
Buy Stamps Online Now
Stamp Auctions - When should you use an auction house to sell your stamp collection?
Custom Postage Stamps - Design your own Stamp and Personalize your Mail
Postage Stamp Picture Gallery. Photos of Early US and Worldwide Stamps
How to Sell Stamps - From selling an inherited stamp collection to becoming a stamp dealer.
US Stamps - a philatelic history of the famous and rare stamps of the United States.
This Stamp Collecting Blog keeps you up to date on additions to the www.stamp-collecting-resource.com Web site. Subscribe here!
Stamp Collecting Albums : The Final Destination for many Stamps.
Stamp Collecting Supplies - Albums, Pages, Tongs and all the supplies of the hobby
Forever Stamp Pictures - Recent Commemorative Stamp Designs
Stamp Clubs and Societies - What are they all about?
Stamp Collecting Resource SiteSearch - Google this site or the entire web
Stamp Collecting Links
First Day Covers. Collecting stamps used the first day it is released is what FDCs are all about.
US Postage Stamps - Rare stamps to modern US Postal Service issues.
Buy Stamps - How to Purchase Stamps as a Hobby or Investment
Topical Stamp Collecting is booming and with good reason!
Contact Me! Enter a private message here.
Stamp Stories - Rare and Unusual with Pictures and History
Custom Search