Buy Stamps for Hobby or Investment
How to Buy Stamps is a complex question - there are many choices, each with its own pros and cons.
This guide will break out ways to purchase stamps with links to more detailed pages that you can click.
This is a guide only but we also sell high quality United States and worldwide stamps on this website,
Buy Stamps
(click to open in a new window or just click the 'Buy Stamps' link in the navigation bar).
Buying stamps online has become more popular and safe over the years and as long as you buy from high feedback sellers with no reason required return policies you can find some great deals - the column at right has some current ebay auctions you can click on to purchase stamps.
Whether you're buying postage stamps to use on mail or investing in rare stamps, there are strategies that can save you time and money.
Buy Postage Stamps for Mail Use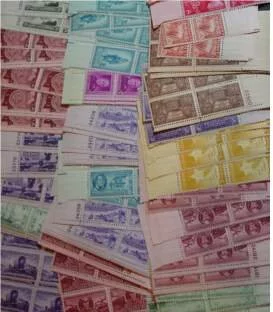 If you are looking to Buy Postage Stamps for use on Mail, getting them direct from your local Post Office is a quick and easy option.
Stopping by a local branch office is still preferred by many though the ease of internet purchases and availability of discount postage have changed that to some extent.
Most countries allow you to buy postage stamps online which is a great time saver if you want to buy the newest stamps without the hassle of picking them up in person. For example, it is very easy to Buy US Postage Stamps Online from the US Postal Service.
---
Another option is to buy discount postage - basically old stamps that are still valid for use on mail. You can buy these from most stamp dealers and, in addition to brightening up your mail with all manner of colorful designs over the past 75 years, you can save money.
Discount postage can usually be bought for 70% to 90% of the face value depending the denominations and condition.
Even Forever postage stamps sell at a slight discount to face value.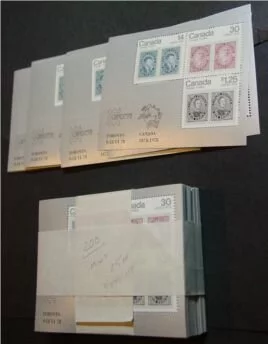 Why can you buy stamps for less than the face value?
The simple truth is that supply outweighs demand. There are more unused stamps saved by collectors over the past 75 years than there is demand for using it on mail today.
This causes prices to fall - great for anyone that wants to buy stamps!
Collectors and anyone that uses modern postage stamps make out well but it does mean that discount postage is not a good investment. It can come as quite a shock to someone trying to sell stamps to find out they're likely to get 50% of what they expected.
Buying to Build a Stamp Collection
Most stamp collectors want to buy more postage stamps than those currently available at the post office. To find collectible stamps will require finding an alternate supplier.
How to Buy Collectible Stamps
1. Stamp Dealers - great for building a collection and you'll receive better prices over time as you build a relationship.
2. Stamp Auctions - perfect for buying entire stamp collections and high-end rare stamps.
3. Online - buying from online dealers and auctions can be a great way to add stamps to your collection as long as you are careful, deal with reputable sellers and sites, and inspect whatever you buy. 
4. Direct - the cheapest way to purchase stamp collections is directly from collectors and estates. Criag's List and newspaper ads can generate some leads but also check estate sales, antique shops, and yard sales.
5. Mail Order - Receive stamps by mail for review and purchase in the comfort of your own home, such as from the American Philatelic Society (APS).
Investing in Stamps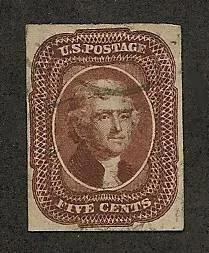 This is hard to hear for many, but when you buy stamps there are very few that would be deemed as "investment quality". Basically, you are limited to the most popular countries and have to specialize in flawless, faultless, well-centered and rare.
What this means in practical terms is that the most expensive, high quality stamps are likely to be the best investment.
Rare Stamp Rules of Thumb
Buy Faultless and Well-centered Stamps

Require a Certificate of Authenticity

Be Patient and constantly watch for deals at high-end dealers and auction houses

Generally, stick with the most popular and rare stamps of the most collected countries

Don't buy error stamps

Stick to the main Scott numbers - no specialized varieties except for some inverted stamps

Follow the market to understand price trends

Properly protect and store your stamps

Insure any high value stamp investments!
There are exceptions to these rules of thumb, like any rules, but these hold for the vast majority of investment grade stamps.
Beyond that, it's like any collectible investment - buy high quality, in-demand material when you think it is on sale at a fair price.
Return to the Main Stamp Collecting page from this Buy Stamps page.
Stamp Values for a Stamp Collection, Old Stamps and Current Rate Stamps
Buy Stamps Online Now
Stamp Auctions - When should you use an auction house to sell your stamp collection?
Custom Postage Stamps - Design your own Stamp and Personalize your Mail
Postage Stamp Picture Gallery. Photos of Early US and Worldwide Stamps
How to Sell Stamps - From selling an inherited stamp collection to becoming a stamp dealer.
US Stamps - a philatelic history of the famous and rare stamps of the United States.
This Stamp Collecting Blog keeps you up to date on additions to the www.stamp-collecting-resource.com Web site. Subscribe here!
Stamp Collecting Albums : The Final Destination for many Stamps.
Stamp Collecting Supplies - Albums, Pages, Tongs and all the supplies of the hobby
Forever Stamp Pictures - Recent Commemorative Stamp Designs
Stamp Clubs and Societies - What are they all about?
Stamp Collecting Resource SiteSearch - Google this site or the entire web
Stamp Collecting Links
First Day Covers. Collecting stamps used the first day it is released is what FDCs are all about.
US Postage Stamps - Rare stamps to modern US Postal Service issues.
Buy Stamps - How to Purchase Stamps as a Hobby or Investment
Topical Stamp Collecting is booming and with good reason!
Contact Me! Enter a private message here.
Stamp Stories - Rare and Unusual with Pictures and History
Custom Search