Buy Postage Stamps
If you buy postage stamps to use on mail there are a few ways you can save time and money while adding personality to outgoing mail.
You have a few options depending on whether you are looking for the latest issued forever postage stamps or care more about saving some money and are willing to go back to the lick 'em & stick 'em method of putting modern US postage stamps on envelopes.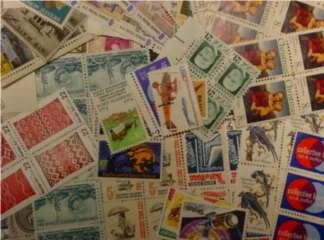 Modern US stamps like those pictured above are perfectly good for using as postage on mail - in fact, you could use mail going back to the 1860's. All stamps since the Civil War are still valid for postage, even rare US stamps.
Believe it or not, most stamp dealers will sell postage stamps for use on mail at moderate to substantial discounts to face value. Stamp auctions are another place to find discount postage in bulk.
Why do old stamps sell at a discount?
High Supply - Collectors have been hoarding stamps since the 1930s collecting boom
Low Demand - Mail & stamp use is down
Taste - No one likes licking gummed stamps!
Time - It takes longer to put three 15 cent stamps on an envelope than a single 45 cent stamp
What about current or custom postage stamps?
Buying the newest postal issues can be a great way to keep your mail new and interesting. Similarly, Customized Stamps can be another way to add fun and personality to an envelope.
The easiest way to buy the latest postal issues is directly from the post office - either in person or online. If you are lucky and diligent you may also be able to find new stamps at a decent price online at sites like eBay.
What if I just want my own pictures on stamps?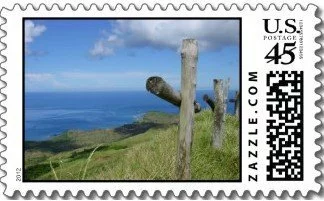 One of the best stamp innovations of the past 25 years is the ability to use your own digital pictures to quickly and easily make personalized postage stamps.
If you're not familiar, check out these stories and pictures of other readers custom postage stamps. I love reading these and have made quite a few photo postage stamps myself. They're fun and really don't cost that much more than a regular stamp.
Return to the Buy Stamps page from this Buy Postage Stamps page.
Stamp Values for a Stamp Collection, Old Stamps and Current Rate Stamps
Buy Stamps Online Now
Stamp Auctions - When should you use an auction house to sell your stamp collection?
Custom Postage Stamps - Design your own Stamp and Personalize your Mail
Postage Stamp Picture Gallery. Photos of Early US and Worldwide Stamps
How to Sell Stamps - From selling an inherited stamp collection to becoming a stamp dealer.
US Stamps - a philatelic history of the famous and rare stamps of the United States.
This Stamp Collecting Blog keeps you up to date on additions to the www.stamp-collecting-resource.com Web site. Subscribe here!
Stamp Collecting Albums : The Final Destination for many Stamps.
Stamp Collecting Supplies - Albums, Pages, Tongs and all the supplies of the hobby
Forever Stamp Pictures - Recent Commemorative Stamp Designs
Stamp Clubs and Societies - What are they all about?
Stamp Collecting Resource SiteSearch - Google this site or the entire web
Stamp Collecting Links
First Day Covers. Collecting stamps used the first day it is released is what FDCs are all about.
US Postage Stamps - Rare stamps to modern US Postal Service issues.
Buy Stamps - How to Purchase Stamps as a Hobby or Investment
Topical Stamp Collecting is booming and with good reason!
Contact Me! Enter a private message here.
Stamp Stories - Rare and Unusual with Pictures and History
Custom Search