US Stamps - the Rare and Famous
This history of US stamps is to take a walk through the rare, famous, and otherwise interesting philatelic issues of the United States over the past 165 years.
I'm still figuring out my plans for this page but am thinking it will basically be brief descriptions of interesting stamps with text links you can click for more details about each set.
This will be a work in progress and I'll be updating this page with whatever catches my interest or to respond to requests for particular issues.
The First Stamps Issued by the United States
US Stamps First Issue (click for more details) :
Scott #1 and Scott #2 -Issued in July, 1847
One of the most beloved and studied of all sets, these were issued in response to the burgeoning need for a consolidated postal service.
With designs of Ben Franklin and George Washington on the 5 and 10 cent issues respectively, a 1/2 ounce piece of mail could be shipped up to 300 miles for a nickel and over 300 miles for a dime.
The Trans-Mississippi U.S. Stamps of 1898
The Trans-Mississippi Commemorative Stamps :
This may be my favorite set of all. There is an interesting history stemming from fact that these were issued during the aftermath of the Depression triggered by the panic of 1893. In 1898, the country was still recovering and most Americans had little disposable money so few of the high value stamps were bought and stored away by collectors.
This struggling economy decreased demand and was compounded by a stamp collector community that thought these were a ploy by the USPS to generate income.
Sound familiar?
Times haven't changed too much in some respects but I'm not sure the beauty of this engraved set trumpeting exploration west of the Mississippi will ever be matched.
The $1 Cattle in the Storm and $2 Mississippi River Bridge issues now have hefty prices and are very difficult to find in high quality, faultless condition.
The Columbians of 1893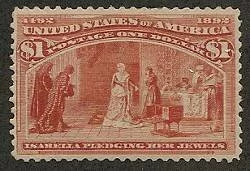 1893 US Stamps Columbians Issue :
This is the most popular of all United States stamps with collectors and the worth of a United States stamp collection is often determined by this set of stamps.  
Commemorating the 400th anniversary of Christopher Columbus' sailing voyage this set is full of bright, colorful designs and offers many challenges to even the most advanced stamp collectors.
Large Banknote Stamps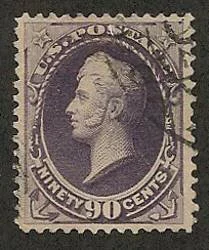 The large Banknote Stamps were issued by three private companies for about two decades from 1870 through 1888 and are a brilliant display of innovative colors.  
Many of the rarest of Banknotes can only be found if you become an expert in identifying the grills and subtle design and color differences to properly identify the stamps.  So it pays to know your stamps which is part of the reason many collectors love stamps from this time period.  
I have found most Banknotes misidentified in collections in the past but have yet to find the real rarity, a 24 cent grilled National Bank Note Company stamp and would love to hear any stories if you have!
The Zeppelin Stamps of the Great Depression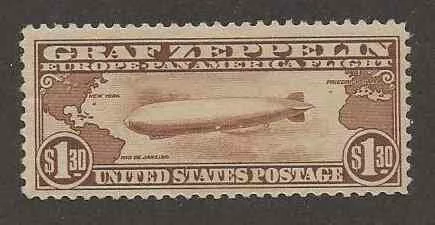 The Graf Zeppelins Airmail Stamps :
This set was issued in 1930 during the still nascent Great Depression and, as the depression intensified most stamps went unsold and nearly all of the Graf Zeppelins were destroyed.
This, combined with our love of flight and some exquisite designs, keep these Zeppelins in high demand...which really is just another way of saying these stamps can be difficult to find and expensive.
Return to the main Stamp Collecting page from this US Stamps page.
Stamp Values for a Stamp Collection, Old Stamps and Current Rate Stamps
Buy Stamps Online Now
Stamp Auctions - When should you use an auction house to sell your stamp collection?
Custom Postage Stamps - Design your own Stamp and Personalize your Mail
Postage Stamp Picture Gallery. Photos of Early US and Worldwide Stamps
How to Sell Stamps - From selling an inherited stamp collection to becoming a stamp dealer.
US Stamps - a philatelic history of the famous and rare stamps of the United States.
This Stamp Collecting Blog keeps you up to date on additions to the www.stamp-collecting-resource.com Web site. Subscribe here!
Stamp Collecting Albums : The Final Destination for many Stamps.
Stamp Collecting Supplies - Albums, Pages, Tongs and all the supplies of the hobby
Forever Stamp Pictures - Recent Commemorative Stamp Designs
Stamp Clubs and Societies - What are they all about?
Stamp Collecting Resource SiteSearch - Google this site or the entire web
Stamp Collecting Links
First Day Covers. Collecting stamps used the first day it is released is what FDCs are all about.
US Postage Stamps - Rare stamps to modern US Postal Service issues.
Buy Stamps - How to Purchase Stamps as a Hobby or Investment
Topical Stamp Collecting is booming and with good reason!
Contact Me! Enter a private message here.
Stamp Stories - Rare and Unusual with Pictures and History
Custom Search