Large Banknote Stamps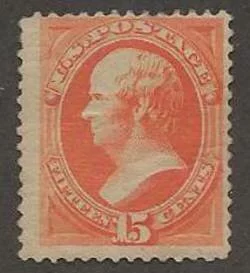 Large Banknote stamps are postage stamps of the United States issued from 1870-1888 displaying portraits of famous Americans.
This set of stamps was issued in a brilliant range of colors during an experimental period including orange, purple, vermilion and dozens of others.
To add intrigue to beauty, there are some stamps that can only be identified through slight differences in color of the inks used.
The best example of this is the 90 cent stamp of Oliver Hazard Perry with two stamps only an expert can differentiate as one is Carmine in color and the other is Carmine Rose in color. 
 Which does sound relatively straight forward until you start thinking about how much the color may have faded or changed over the past 150 years.  
Is that Carmine stamp really Carmine Rose or is the paper just slightly toned after a century and a half of exposure to air and light?  
Questions like these are key to both identifying a stamp correctly and determining Stamp Values.
Large Banknotes were produced by three private companies, in chronological order
National Bank Note Company

Continental Bank Note Company

American Bank Note Company
These gorgeous stamps were first issued in 1870 in denominations from 1 cent to 90 cents by the National Bank Note Company.
Initially they were produced with experimental grills as small ridges impressed into the stamp paper to prevent illegal reuse of postage stamps.  Now, grilled examples of the higher denomination stamps are scarce and hard to identify with steep stamp values if genuine.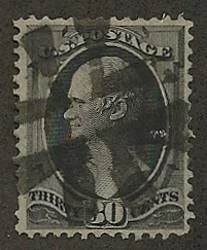 The same designs were produced through much of the next 20 years, with only a few minor design changes and a couple of new design additions, by the Continental Bank Note Company and then finally the American Bank Note Company.
This was the heyday of private stamp printing in the United States and the Banknotes are in high demand by stamp collectors.  This, combined with the fact that many of the surviving higher denominations are scarce and usually damaged or off-center, continues to drive prices upwards for the highest quality stamps.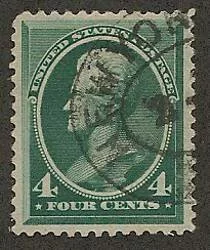 The designed honored famous Americans

Benjamin Franklin (1 cent)
Andrew Jackson (2 cent)
George Washington (3 cent)
Abraham Lincoln (6 cent)
Edwin Stanton (7 cent)
Thomas Jefferson (10 cent)
Henry Clay (12 cent)
Daniel Webster (15 cent)
General Winfield Scott (24 cent)
Alexander Hamilton (30 cent)
Commodore Oliver Hazard Perry (90 cent)
Click to return to the US Stamps page from this Large Banknote Stamps page.
Stamp Values for a Stamp Collection, Old Stamps and Current Rate Stamps
Buy Stamps Online Now
Stamp Auctions - When should you use an auction house to sell your stamp collection?
Custom Postage Stamps - Design your own Stamp and Personalize your Mail
Postage Stamp Picture Gallery. Photos of Early US and Worldwide Stamps
How to Sell Stamps - From selling an inherited stamp collection to becoming a stamp dealer.
US Stamps - a philatelic history of the famous and rare stamps of the United States.
This Stamp Collecting Blog keeps you up to date on additions to the www.stamp-collecting-resource.com Web site. Subscribe here!
Stamp Collecting Albums : The Final Destination for many Stamps.
Stamp Collecting Supplies - Albums, Pages, Tongs and all the supplies of the hobby
Forever Stamp Pictures - Recent Commemorative Stamp Designs
Stamp Clubs and Societies - What are they all about?
Stamp Collecting Resource SiteSearch - Google this site or the entire web
Stamp Collecting Links
First Day Covers. Collecting stamps used the first day it is released is what FDCs are all about.
US Postage Stamps - Rare stamps to modern US Postal Service issues.
Buy Stamps - How to Purchase Stamps as a Hobby or Investment
Topical Stamp Collecting is booming and with good reason!
Contact Me! Enter a private message here.
Stamp Stories - Rare and Unusual with Pictures and History
Custom Search