Adjustable Stamp Collecting Album
A stamp collecting album with an adjustable binding gives you the freedom to add and remove pages as you see fit.
This is a must-have for collectors of new stamps as each year bring new pages to enter into the collection. The general concept is that of a 3-ring binder though the exact mechanism used to bind the pages can differ.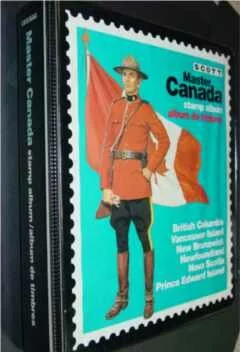 There are a handful of companies that produce these popular binders and the pages for them. Some of the more popular are Scott, Mystic, Lighthouse, Harris, Minkus and Schaubek.
For the newest, current year pages you'll likely have to buy direct at the retail price which can be a few dollars to tens of dollars per year.
There are also subscription services so you can sign up and forget about it. Then each year's new pages will arrive in the mail. This can really save some time and hassle each year.
Older used pages can often be found at a discount if you're patient. If you can pay a fair price on the stamps that means you'll pay little or nothing for the pages themselves.
What a great way to jumpstart a collection and get some nice, clean new pages for free!
You can usually find discounted stamp album pages through stamp dealers and stamp auctions.
Adjustable binders offer the the freedom to add, remove and rearrange pages at the whim of your latest collecting off-shoot. Sometimes an extra page is needed in the middle of a section and an adjustable binder offers the flexibility to do so.
The design mechanisms differ from binder to binder so find one that is sturdy, easy to operate and that you're comfortable with.
Two of the most popular examples are the Scott Specialty Albums (Green hardbound album and slipcase) and the Minkus Supreme Global Albums (Deep blue hardbound binder and slipcase).
These are sturdy binders and protective slipcases produced with uniform designs. This enables a collection to grow by adding another binder and inserting whatever pages fit.
---
Return to the Stamp Collecting Albums page from this Adjustable Stamp Collecting Album page.
Stamp Values for a Stamp Collection, Old Stamps and Current Rate Stamps
Buy Stamps Online Now
Stamp Auctions - When should you use an auction house to sell your stamp collection?
Custom Postage Stamps - Design your own Stamp and Personalize your Mail
Postage Stamp Picture Gallery. Photos of Early US and Worldwide Stamps
How to Sell Stamps - From selling an inherited stamp collection to becoming a stamp dealer.
US Stamps - a philatelic history of the famous and rare stamps of the United States.
This Stamp Collecting Blog keeps you up to date on additions to the www.stamp-collecting-resource.com Web site. Subscribe here!
Stamp Collecting Albums : The Final Destination for many Stamps.
Stamp Collecting Supplies - Albums, Pages, Tongs and all the supplies of the hobby
Forever Stamp Pictures - Recent Commemorative Stamp Designs
Stamp Clubs and Societies - What are they all about?
Stamp Collecting Resource SiteSearch - Google this site or the entire web
Stamp Collecting Links
First Day Covers. Collecting stamps used the first day it is released is what FDCs are all about.
US Postage Stamps - Rare stamps to modern US Postal Service issues.
Buy Stamps - How to Purchase Stamps as a Hobby or Investment
Topical Stamp Collecting is booming and with good reason!
Contact Me! Enter a private message here.
Stamp Stories - Rare and Unusual with Pictures and History
Custom Search