Hingeless Stamp Albums
High-quality hingeless stamp albums provide superior protection for your stamp collection while also presenting a beautiful display.
Improved safety better ensures your stamps won't be damaged. This is especially important in the case of rare stamps and mint never hinged stamps as even a slight mishap can result in losing a significant portion of the stamp collecting values in a collection.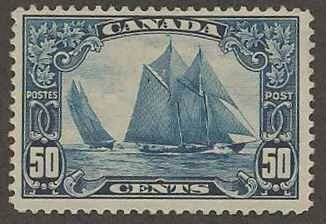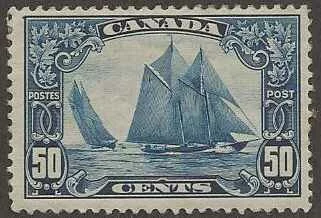 As a warning tale, check out the two stamps to the right. They are both mint, have a fresh color and are similarly centered. But look closely at the bottom stamp.
Near the top center you can see a slight discoloration. That is caused by the black background behind the stamp against which the scan was made.
This stamp had been improperly mounted and a large thin affects the top center of the back of the stamp.
The other stamp has fresh never hinged original gum on the back. Sounds like such a small difference yet it means a difference in value of a retail price in the $200 range for the top stamp to a value of maybe $50 for the bottom.
Most Stamp Damage Occurs During Mounting
Mounting is the single most frequent way stamps are unintentionally damaged. This can take the form of thins, creases and tears. Also, a never hinged stamp can unexpectedly lose that status due to gum damage which, by itself, can mean hundreds of dollars of difference in value for early expensive stamps.
Hingeless stamp albums eliminate both of the main culprits of mount damage - stuck down and loosely mounted stamps.
For mounting stamps on a regular album page most collectors use either stamp hinges or stamp mounts. Using either of these stamp collecting supplies can result in sticking the stamp to the album page, especially if it is a mint stamp with gum on the back. This can result in a small chunk of the stamp inadvertantly being pulled off during removal which can make a valuable stamp suddenly worthless.
Most hingeless mounts are also designed to minimize the chance of a stamp falling out once inserted. This security without the need to attach the stamp physically to the page greatly improves the overall safety of a collection.
Of course, they're more expensive than a traditional stamp album...
High Quality Hingeless Stamp Albums are Expensive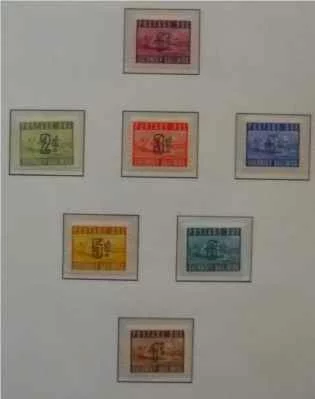 Even used, high quality hingeless albums can cost hundreds of dollars. Some new sets sell for many thousands depending on the design and number of volumes in the set.
Some of the more popular are produced by Davo, Lighthouse, Lindner, SAFE and Schaubek. Truly, any of the top flight products will provide protection and a beautiful display for the life of your collection. So, it is really about finding a set with a design that you'll appreciate and a price you can afford.
If you're patient, you can probably put together a set for a fraction of the cost of a new set. The key is to find a stamp collection that just happens to be mounted in hingeless binders.
Often, the collection will be priced mainly on the cost of the stamps and the album itself will be discounted in the purchase price. Of course, the amount of discount really depends on the quality of the pages, binder, etc. A brand new, pristine set will be much less likely to be discounted but if you look long enough something will turn up.
Check with your local stamp dealers and watch stamp auctions for such collections and you may be able to snag a great deal.
---
Return to the Stamp Collecting Albums pages from this Hingeless Stamp Albums page.
---
Stamp Values for a Stamp Collection, Old Stamps and Current Rate Stamps
Buy Stamps Online Now
Stamp Auctions - When should you use an auction house to sell your stamp collection?
Custom Postage Stamps - Design your own Stamp and Personalize your Mail
Postage Stamp Picture Gallery. Photos of Early US and Worldwide Stamps
How to Sell Stamps - From selling an inherited stamp collection to becoming a stamp dealer.
US Stamps - a philatelic history of the famous and rare stamps of the United States.
This Stamp Collecting Blog keeps you up to date on additions to the www.stamp-collecting-resource.com Web site. Subscribe here!
Stamp Collecting Albums : The Final Destination for many Stamps.
Stamp Collecting Supplies - Albums, Pages, Tongs and all the supplies of the hobby
Forever Stamp Pictures - Recent Commemorative Stamp Designs
Stamp Clubs and Societies - What are they all about?
Stamp Collecting Resource SiteSearch - Google this site or the entire web
Stamp Collecting Links
First Day Covers. Collecting stamps used the first day it is released is what FDCs are all about.
US Postage Stamps - Rare stamps to modern US Postal Service issues.
Buy Stamps - How to Purchase Stamps as a Hobby or Investment
Topical Stamp Collecting is booming and with good reason!
Contact Me! Enter a private message here.
Stamp Stories - Rare and Unusual with Pictures and History
Custom Search