Vintage Stamp Album
An inexpensive vintage stamp album can add a great sense of history to your collection.
Beginning in the earliest days of stamp collecting, enterprising companies produced hardbound books designed for protecting and displaying a collection.
Some can be intricately adorned, covered in artwork and as beautiful a display as you can find anywhere today.
In full swing by the 1930s, the stamp collecting boom led to some great vintage stamp collecting albums being mass produced. This means even today you can find one in like-new condition.
The Scott Company, in particular, produced some really high quality albums in the 1930s that are still relatively common and can be purchased inexpensively from most stamp dealers.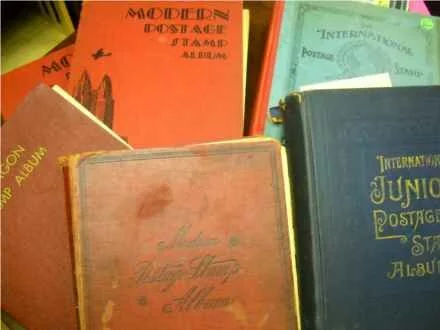 What to consider when buying
---
With old vintage stamp collecting albums, it isn't much of a surprise that there can be a big difference in quality from one to the next.
Here are some things to check if you are buying.
Page Layout - ideally, there will be only one side of each page for stamp mounting. For double-sided pages, interleaves can prevent stamps entangling with those on the facing page.
All that being said, you should be able to find a clean and solid worldwide or US album for $20 to $50 depending on the quality and design.
Even better, you can often find one for free if you buy a stamp collection that just happens to be mounted in a nice clean traditional stamp album.
One drawback is that you won't find any hingeless stamp albums so you will have to be more careful with mounting stamps in the book. This mainly comes into play if you use your own hingeless mounts or are using pages printed on both sides.
For most collections, neither of these pose much of a problem.
An additional benefit is the link a vintage relic provides to the history of the hobby. Many of us love thinking about the centuries of history embodied in stamps and a gorgeous album from the 1890s can be a physical reminder with every page of a collection.
Check with local stamp dealers or watch stamp auctions and you'll eventually run across a nice one.
Return to the Stamp Collecting Albums page from this Vintage Stamp Album page.
Stamp Values for a Stamp Collection, Old Stamps and Current Rate Stamps
Buy Stamps Online Now
Stamp Auctions - When should you use an auction house to sell your stamp collection?
Custom Postage Stamps - Design your own Stamp and Personalize your Mail
Postage Stamp Picture Gallery. Photos of Early US and Worldwide Stamps
How to Sell Stamps - From selling an inherited stamp collection to becoming a stamp dealer.
US Stamps - a philatelic history of the famous and rare stamps of the United States.
This Stamp Collecting Blog keeps you up to date on additions to the www.stamp-collecting-resource.com Web site. Subscribe here!
Stamp Collecting Albums : The Final Destination for many Stamps.
Stamp Collecting Supplies - Albums, Pages, Tongs and all the supplies of the hobby
Forever Stamp Pictures - Recent Commemorative Stamp Designs
Stamp Clubs and Societies - What are they all about?
Stamp Collecting Resource SiteSearch - Google this site or the entire web
Stamp Collecting Links
First Day Covers. Collecting stamps used the first day it is released is what FDCs are all about.
US Postage Stamps - Rare stamps to modern US Postal Service issues.
Buy Stamps - How to Purchase Stamps as a Hobby or Investment
Topical Stamp Collecting is booming and with good reason!
Contact Me! Enter a private message here.
Stamp Stories - Rare and Unusual with Pictures and History
Custom Search